Find the Perfect Waterproof Duffel Bag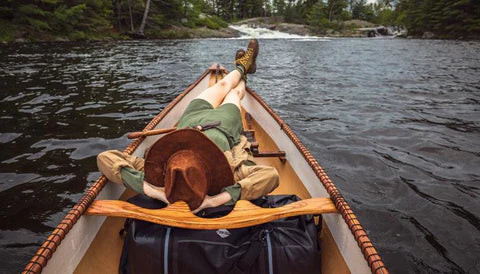 What can be better than a trusty, sturdy duffel bag that you can take camping, road-tripping, kayaking, or on your routine trips to the gym? Only a quality waterproof duffel bag! If you have never owned a waterproof duffel, and are interested in finding the best one for your needs, this guide will have all the useful information you'll need.
Overview
A waterproof duffel bag is a universal piece of gear with lots of uses. You can take it kayaking, boating, or canoeing if you love water adventures. Some waterproof duffels can even float! You can take your waterproof duffel bag camping or hiking and be sure that your stuff will stay safe and dry even in the harshest of downpours. It can rain in the city a lot too, so if you are a regular commuter by bike or motorcycle, a waterproof duffel bag would be a perfect addition to your gear. You can also take your duffel to the gym or pool and not worry about wet gear getting in contact with your dry things in the car. The situations are endless where a waterproof bag will be invaluable.  
What is a waterproof duffel bag?
A waterproof duffel is a medium to large-sized bag made of ripstop nylon, or other types of fabric with waterproof coating. The seams on such bags are either stitched and heat-taped or welded to avoid stitch holes that would let water in. Waterproof duffel bags also feature roll-top closure systems or, more rarely, drysuit zipper closure systems, which makes the bag entirely waterproof.  
Waterproof vs Water-resistant
A lot of bags on the market claim to be waterproof, whereas, in reality, they are only water-resistant at best. They may use fabrics with no waterproof coating and may have a regular zipper system which will let water in if submerged of even under any considerable amount of rain. Such bags may or may not have a dedicated waterproof compartment inside that is entirely waterproof. Always read the manufacturer descriptions and all available information about the bag to have a clear understanding of the waterproof status of the product.  
Waterproof duffel uses
Waterproof duffels for hiking or camping
If you are a hiker or camper, you know it's impossible to predict weather conditions during your trip. When you are stranded in the wild under a torrential downpour, nothing will keep your belongings dry like a waterproof duffel. Pack your clothes, food, electronics and anything else valuable and you can be sure those items will stay dry until the sun comes out again. Together with a  good waterproof tarp, a waterproof duffel may be one of your most valued and useful pieces of gear.
Kayaking / Canoeing / Boating
A good waterproof duffel is a great product for water adventure fans. Pack your gear and throw your duffel in the boat/canoe/kayak and venture out with confidence. Even if you flip over in a canoe or kayak, your waterproof duffel will often be able to float, thus not only keeping your stuff dry but also above water. We wouldn't recommend doing it on purpose, but it's great to be prepared!
Hitting the gym
Duffels, in general, are a great gym accessory, and a waterproof duffel is on a whole different level. Keep your stuff dry inside and outside the gym, pool, sauna or any other potentially moist area you may end up in. Plus you'll like the versatility! Take your duffel to the gym during the week and to the campgrounds or a wild kayaking adventure on the weekend!
Navigating the urban jungle
The weather in the city can be just as unpredictable as in the wild. If you are a regular commuter and cover miles and miles of city terrain under the snow, rain, or hail, a waterproof duffel is a great bag for your belongings, be it clothes, work documents, a computer, or anything else.
Kids & Sports
Smaller waterproof duffels for kids can be a great piece of gear for those hockey or soccer practices, swim meets, or even to keep their school books dry. Pack it up, throw it in the car and your kid is all set. A waterproof duffel can be a great alternative to a backpack!  
More things you can do with a waterproof duffel
Camping party or backyard gathering?
Throw some ice in the duffel and you now have a beverage cooler!
Travelling by plane?  
Think of your bag sitting on that rainy tarmac and then being stuffed into a cargo area for hours. With a waterproof duffel, you'll have peace of mind that your belongings will be nice and dry! A large duffel will also give you plenty of space to rummage. That's right, root around for those small socks at the bottom without having to take things out or spill your clothing all over the floor.
How To Choose the Best Waterproof Duffel Bag
Buying a waterproof duffel bag can be an important and valuable investment in your gear collection. It's always a good idea to take your time and think about how exactly you will be using your duffel and what characteristics it should have to better suit your needs. Here are some things to consider.
Clear or coloured waterproof duffel?
Duffels can come in colours or with a clear, see-through surface. Both have their pros and cons. If your duffel is fairly large, having it clear can help look for smaller items inside it. The downside is that everyone can then see the contents of your duffel. A coloured duffel will provide privacy but it may be slightly more tricky to find smaller items inside. Army duffel bags or military-style duffel bags may even be camo coloured if that's what you need.
Capacity
Waterproof duffels come in a variety of sizes - from small 20-litre bags when it comes to kids' duffel bags to 100-litre giants for boat duffels, army, or military duffels. If you need a weekend gym bag, smaller 40 - 50-liter bag would probably be just right to pack some gym gear, snacks and water. If you are heading out on a boat, check out some larger duffel bags.
Price
With various brands offering a multitude of duffels of different quality and capacity, a price for a waterproof duffel can be anywhere from $30 for smaller bags to $300. Remember, you are not just buying a bag. You are buying waterproof protection for your gear and this is where quality plays an important role. However, a high price doesn't always mean a high-quality product. Always check the manufacturer's notes and product reviews! Too low of a price can mean the bag has quality issues and probably shouldn't be trusted.
Material
A high-quality waterproof duffel should be made of fabric with waterproof coating and either has a drysuit zipper system or a roll-top closure system. If a bag is made of nylon but doesn't have a secure drysuit zipper or roll-top system, or the seams aren't welded, it may be a water-resistant bag, but it will let water in during harsh weather conditions and definitely in the event of submersion. A high-quality waterproof duffel should be made of fabric with a waterproof coating on both sides of the fabric. The bag should also have either a drysuit zipper system or a roll-top closure system. If a bag is not dual-coated, the seams aren't welded or heat-taped, or it doesn't have a secure drysuit zipper or roll-top system, it is a water-resistant bag a best. This type of bag will let water in during wet weather conditions and definitely in the event of submersion.
Features
Some great features to look for in a waterproof duffel are internal and external pockets that will allow you to separate your items and have a quick access storage area. Take it a step further and get an extra layer of protection and organization by having different coloured dry bags inside your duffel. Backpack straps can be a useful feature if you are looking for a duffel to use for hiking.
A bit of history
Back in the nineties, hikers, campers, boaters and urban commuters used to have a hard time finding solid pieces of waterproof gear to protect their belongings. Waterproof duffels were practically unheard of on the market, and the few ones you could find were of questionable quality. This is why our founder created a waterproof duffel bag as one of the first products using our superb waterproof technology. You can now see it featured in our White Water 50 and 75-liter waterproof duffel bags which have been an absolute success among customers for many years.
Featured Aqua Quest Waterproof Duffel Bags
WHITE WATER DUFFELS SERIES Available in 50 L and 75 L sizes, and is designed to provide waterproof protection in the classic duffel style that so many people know and love.
100% WATERPROOF
The White Water duffel offers all the functionality of a regular duffel, but with the added bonus of protecting your valuables from the elements. Lay it in on the wet ground and don't think twice. No amount of rain, snow, dirt, dust, or sand can penetrate this bag. In fact, it will protect against any conceivable circumstance other than complete submersion!
LIGHTWEIGHT + DURABLE
Weighing in at only 760 g (1.6 lbs), yet incredibly durable and long-lasting, even after extended use. Abrasion-resistant Oxford 420D RipStop fabric + TPU lamination + DWR coating + Double bar-tacked stress points + Welded seams = The best duffel you've ever owned!
COMFORTABLE
The padded and adjustable shoulder strap easily attaches to any of the 6 D-rings on this duffel and is also removable. Alternatively, just grab the padded handle and carry it with one hand.
VERSATILE
Two external rubberized mesh pockets provide easy access for small items, and allow you to keep wet and dry gear separate. Four extra strong webbing loops on the bottom of the bag allow for fast and easy attachments to racks, motorbikes, vehicles, boats, etc.
WORLD-CLASS SERVICE & WARRANTY
We are located in the Pacific Northwest and provide toll-free customer service Mon-Fri, 10-5 PST, at 1-844-775-7770. All products come with our Two (2) Year 'No Worries Warranty'.
SPECS
Capacity: 3051 cu in / 50 L

Weight: 1.67 lbs / 760 g

Open: 28 x 11 x 17 in / 71 x 28 x 44 cm

Closed: 24 x 12 x 12 in / 61 x 30 x 30 cm

Outer Pockets: 10 x 7 in / 25 x 18 cm
FEATURES
Abrasion-resistant Oxford 420D RipStop fabric

TPU lamination and DWR coating

Double bar-tacked stress points and welded seams

Padded and adjustable shoulder strap (removable)

Padded hand-carry handle

6 outer D-Rings

2 external rubberized mesh pockets

4 extra strong webbing loops on the bottom
AQ Waterproof Duffel Expert Panel
What do you usually carry in your waterproof duffel and where do you use it?
Whether I'm going camping or travelling with the family, out on tour with my band, or just need to keep something dry while carrying in the back of a truck etc, I always use a waterproof duffel. Clothes, shoes, electronics, sleeping bags, bivies, food. Pretty much anything you need and then some.
What do you love most about your waterproof duffel?
I never have to worry about anything getting muddy or wet! And there is so much room I don't usually run out of room.
Can you tell us about a situation when your waterproof duffel saved your gear/kept it dry?
On tour in Crested Butte, Colorado (elevation 2,715 m/8907 ft), 7 dudes in a Ford Expedition, the trunk is PACKED to bursting with suitcases, instrument cases, backpacks, etc. All of our merchandise is in a 75 litre AQ Whitewater duffel, rolled and sealed. It usually goes in last, so it is the most likely to fall out when you open the trunk. This time of year, the whole of Crested is full of dirty snow and mud puddles, sometimes past your ankle. We pop the trunk, and what comes tumbling out, the waterproof duffle, facedown into the muddiest puddle ever. Everyone goes "OH!!!" at the same time, and it looks super bad. Pulled it out, turned it over, wiped it down, opened it and saw white, blue and pink t-shirts crisp and fresh, not a single drop of mud or water. All our CD's and other merchandise were perfectly preserved as well. Had this been a normal duffel, we would easily have lost $1500 or more in merchandise.
Continue reading the AquaQuest blog for more outdoor adventure tips.
Mo Moshiri
---